Featherhead
Wire, found objects, plaster, feathers, cast resin, beads, 2004
This wood sculpture was very special to me because it is one of the few of my creations that came out exactly as I had imagined it in my head. For an artist this is rare. Sadly, this sculpture was stolen from my home in Salt Lake City while I was having a moving sale. There is a reward for the return of this sculpture, so if anyone sees it, please contact me.

Acrobat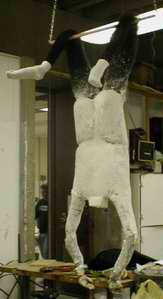 steel rod, steel mesh, plastic mesh, paper pulp, 2004
Sorry these pictures are so bad; this was before I got my good camera. I can't replace Featherhead, though, because she was destroyed. I saved the resin hands and used them in another sculpture.


Detail of cast resin hands (Featherhead)
I really had fun doing these projects, even though I'm more a 2-D artist. It was challenging and stimulating to create in 3-D. I had wonderful instructors and was pleased with how some of my projects turned out.
Connections
detail (uh, how did those woodgrains match?)